In 1992 FOAI elected to assist the Friends of Conservation, Mara Conservation School Project. This program actively encourages the participation of both children and their educators in conservation activities. These programs are being developed and implemented in conjunction with Wildlife Clubs of Kenya. While a number of schools in Kenya's Maasai Mara are targeted for this program, we appropriated $3,000 for two schools ($1500 per school) to help establish this program at the Talek and Kawai Schools.
FOAI Chairman Emeritus Bonnie Bishop, President Scarlett Adams, and International Advisory Board member and former Executive Vice-President of Friends of Conservation John Webley attended the presentation of the donation to the Talek School in 1992.
In June of 2001, Scarlett Adams and the FOAI Board returned to the Mara to visit the Nkoilale School and leave a supply of books, tools and school materials for their Conservation Club Program.
While in Kenya, Scarlett visited also with Friends of Conservation Staff Simon Nkoitoi and Helen Gibbons, FOC Programmes Coordinator, and discussed other ways that FOAI might work with Friends of Conservation on different projects.
In 1972, Cynthia Moss started the Amboseli Elephant Research Project at Amboseli National Park in Kenya. Since then she and her research associates have identified and recorded more than 1,400 elephants. She has authored a number of books and her work has been featured in a several wildlife documentaries.
In June of 2001 the FOAI Board visited the Cynthia Moss Amboseli Elephant Research Project to learn about the herds of elephants in this park and the conservation efforts taking place to help assure their survival. FOAI also made a donation on behalf of the group.
The David Sheldrick Wildlife Trust was established in memory of David Sheldrick, founder Warden of Kenya's giant Tsavo East National Park. From its inception in 1977 the Trust has played an extremely significant and important role in Kenya's conservation effort. Tsavo National Park is the Trust's main focus. It is Kenya's largest wildlife refuge, and offers the best long-term hope for the perpetuation of a greater number of species than any other Park in the world. The Trust has also been active in an educational capacity in the Nairobi area, as well through articles for the Wildlife Clubs of Kenya and the Press. It has funded field trips for students and provided advanced training in wildlife management for promising students.


Dr. Daphne Sheldrick manages the animal orphanage, at the edge of Nairobi National Park, where she oversees the rehabilitation of numerous elephant, rhino and other animal orphans. Through the Trust's input, other elephants have been saved elsewhere in Africa. Many older elephant orphans have been retrieved in an emaciated condition during drought periods, and once rehabilitated, have been successfully reunited with wild herds. In the summer of 2001 members of FOAI visited with Dr. Sheldrick and discussed ways that FOAI might be of service to her efforts in the future. FOAI also made a financial contribution to her efforts. Dr. Sheldrick serves on the International Advisory Board of Friends of Africa International.


For additional information please refer to the David Sheldrick Wildlife Trust
The Sweetwaters Sanctuary is located in a game reserve near Nanyuki, Kenya. A number of chimpanzee orphans that have been rescued from other countries are kept at Sweetwaters, as chimpanzees are not native to Kenya. Their plight is the largely the result of habitat destruction, the bushmeat trade, and the killing of mothers so that their infants can be sold as pets, or for medical research and entertainment industries. Also some die from infections from wounds caused by snares set for other forest animals.


Sweetwaters is home to 22 chimps, and is in need of additional chimp housing and additional fencing. The Sweetwaters facility is managed by Director Annie Olivecrona. Friends of Africa International members visited this Sanctuary in June 2001 and were given a tour of the facility by Ms. Olivecrona, and then made a contribution to the work being done there.


For additional information on Jane Goodall's work, please refer to the Jane Goodall Institute
William Holden was the number one box office star for many years, starring in nearly 80 films, including an Oscar for "Stalag 17". However, he took great pride in his role as a conservationist and founder of the WIlliam Holden Wildlife Foundation and the Mount Kenya Game Ranch.
The William Holden Wildlife Education Center now spreads over 15 acres of land on the Slopes of Mt. Kenya, and includes a youth hostel, lecture hall, library, audio-visual facilities, llama compound, fish farm, tree nursery, bio-gas and solar energy installations.
In June of 2001 the FOAI Board visited the Foundation, and was treated to a personal tour by Don Hunt, co-founder. During their visit, a donation to the Wildlife Education Center was made on behalf of FOAI.
For more information please see the William Holden Wildlife Foundation website.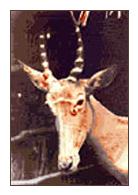 In early 1996 Friends of Africa was asked to participate in the Hirola Antelope Conservation Project in memory of Mr. Bill Woodley, former Kenya Wildlife Service game warden. The Hirola Project's purpose is to translocate a number of this nearly extinct species of antelope which are threatened by heavy poaching on the Kenya-Somali border. These antelope are being sent to government and private game reserves throughout Kenya. These reserves are better equipped to offer the antelope protection.


Ms. Lucile Ford of Nairobi contacted Friends of Africa International to request assistance in the transfer of U.S. donations towards this project. FOAI collected $30,000 on behalf of the Hirola Project from a Mellon Foundation grant. Since then, FOAI has dispersed $3,900 for the purchase of 10 antelope radio collars, which were shipped to the Kenya Wildlife Service.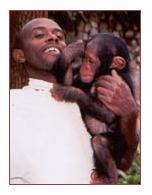 In the summer of 2000 Friends of Africa International was made aware of an urgent situation involving the rescue of two chimpanzee orphan babies whose mothers were killed by poachers in the Congo. Ms. Aly Wood, who is based in Burundi with an aid agency, came upon the two little refugees by happenstance, when a Samaritan who rescued them from a local market brought them to her.


Having had experience with the chimp rehabilitation center in Burundi under Jane Goodall, Ms. Wood temporarily adopted them until the transfer papers could be arranged for the chimps to go to Ngamba Island Chimpanzee Sanctuary in Uganda. This interim arrangement required intensive care for the little chimps, with 24-hour caretakers, food and veterinary care. FOAI assisted with expenses for the temporary care of the chimps until their transfer to Ngamba Island.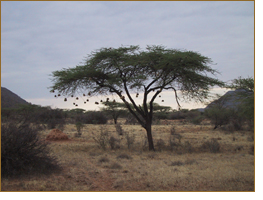 In the summer of 1994, FOAI President Scarlett Adams travelled to Nairobi, Kenya, to visit the organization's projects in the Maasai Mara. While on a reconnaissance mission there, it was made apparent that the area was stricken by a serious drought whereby grasslands were dried up and the Maasai cattle, as well as wild game, were dying off in significant numbers due to lack of forage.
The Maasai people as well were suffering due to crop failures, and were dependent on outside aid of grain supply for their daily sustenance. In one such case, a long-awaited grain supply fell short of demand, with Maasai from other drought areas arriving in the Mara to take advantage of whatever grain they could coax from the relief shipments.
The inevitable shortage resulted in four local Maasai villages being excluded from the dole, and the prospect of acute starvation. Both Scarlett and FOAI Chairman Emeritus Bonnie Bishop who where were "on the scene" appropriated funds on behalf of FOAI, to purchase a grain supply to feed these four villages. It is a fortunate circumstance when red tape can be avoided, and such relief is made available by being there at the time of crisis. We are grateful to the late safari guide Glen Cottar, and his staff, who facilitated the distribution.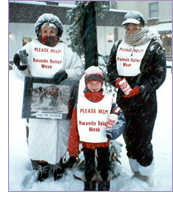 The city of Aspen and Pitkin County declared November 20-27, 1994 "Rwanda Relief Week." Co-sponsored by FOAI and Snowmass Chapel and Community Center, a variety of fund-raising activities were organized during the holiday period.
These funds were used for medicines, immunizations, vitamin supplements and supplies for Rwandans, which had undergone incredible devastation and acts of inhumanity during the prior year.
During the summer of 1995, three of Malawi's park rangers, Elesani C. Zakochera, Mercy Rose Banda and Hector M. Banda (left to right in the photo) visited Aspen to share wildlife management experiences with some of the U.S.'s leading environmental educators.
While in Aspen, the rangers helped with interpretitive activities at the Aspen Center for Environmental Studies, Aspen Mountain and the Maroon Bells, and explained their challenges in promoting the conservation in their country. Their internship at ACES was made possible partially by funding from FOAI.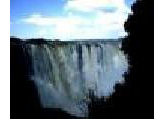 Thanks in part to donations from FOAI, the Abwenzi African Studies Video Exchange Project, directed by Ms. Carlyle Kyzer, was successfully completed. The exchange links and educates Malawaian and American students through two videos. Abwenzi African Studies is a registered nonprofit organization based in Aspen. Abwenzi has provided African Studies classes and African pen pal opportunities to Aspen Middle School students since 1989.
The video is now being used as part of the environmental education program at Lake Malawi National Park. It introduces Malawians to environmental issues, and encourages them to learn about wildlife in Malawi. In the video filmed at the Aspen Center for Environmental Studies, Aspen pen pals demonstrate a lesson about the aquatic web of life.
Little known in the U.S., Malawi hosts a wide variety of wildlife including elephants, zebras, hippos, antelope, birds, reptiles and over 500 species of colorful indigenous fish. As one of the poorest and most densely populated countries in Africa, Malawi faces critical loss of wildlife habitat.
The second video of the exchange illustrates a view of Malawian parks and villages with an emphasis on environmental issues. Our long-term connections with Malawi provide us an intimate African perspective. Ms. Kyzer worked with Emmy award-winning cinematographer, Greg Poschman, who spent one month filming on location in Malawi for Abwenzi, and 1993 ACE award winning editor, Krysia Carter-Giez. The finished product was given the great recognition of receiving an Emmy Award in documentary features.
'Zikomo kwambiri' ('thank you very much' in Chichewa language) to all the Friends of Africa International who have supported Abwenzi!
For more information, please see the Letters from Africa website.