On March 9, 2003, Carol Beckwith and Angela Fisher visited Aspen, with their spectacular multi-media presentation and book-signing event on AFRICAN CEREMONIES.
Beckwith & Fisher are responsible for the exceptional large-format books African Ceremonies, African Ark, Nomads of Niger, Maasi, and Africa Adorned, which have sold in the hundreds of thousands of copies world-wide. Their photographs have also appeared on the cover of National Geographic magazine.
A reception, dinner and auction followed, to benefit projects of Friends of Africa International.


Dr. Iain Douglas-Hamilton is the former coordinator of the African Elephant program for the European Economic Community and senior associate for the African Wildlife Foundation, is the founder of 'Save the Elephants', based in Nairobi, Kenya, and was awarded the Order of the British Empire by Queen Elizabeth for "services to the protection of elephants."
Dr. Iain Douglas-Hamilton and his wife Oria co-authored the highly acclaimed books, Among the Elephants and Battle for the Elephants, which chronicle their struggle to help protect elephants from poachers and their work to help build a coalition of conservationists against the powerful ivory trade.
In 1993 FOAI sponsored a presentation in Aspen by Dr. Iain Douglas-Hamilton, in which the film featured on national television in which he is featured, Islands of Elephant, was shown. He has returned to Aspen a number of times for presentations and special events.
Originally from England, Ian Redmond (at the right in the photo, with FOAI board members) has studied wildlife around the world extensively, and has worked with famed mountain gorilla researcher, Dian Fossey, of "Gorillas in the Mist" fame. Redmond's character was portrayed in the film as a young biologist. He also assisted with the film production starring Sigourney Weaver. He is the author of a number of books for children, including: The Elephant Book" (which features a preface by FOAI International Advisory Board Member, Dr. Daphne Sheldrick). Also he has written, "The Elephant in the Bush", "Monkeys and Apes", and "The Story of Digit" (a biography of the famed mountain gorilla which Dian Fossey knew since birth).
In talking about his time working with Fossey, he claimed that the "research had to be shelved because all our gorillas were being killed by poachers". He speaks about being the first researcher to come upon the body of the slain "Digit", and how the head and hands had been chopped off for sale in the African markets. Redmond has served as a consultant to the Dian Fossey Gorilla Fund, and was the Editor of "Digit News", a publication devoted to gorilla research and conservation.
In addition to his work on the gorillas, he has done extensive research on the cave elephants of Mt. Elgon in western Kenya. These elephants are known for their propensity to mine minerals from the walls of the caves with their tusks, which is a reaction to a lack of minerals in their diet.
In his slide presentations to the school children of the Aspen area, he delightfully entertained the students with animated imitations of animal sounds and gestures depicting animal behavior. Mr. Redmond has appeared in the TV film Islands of Elephants with Dr. Iain Douglas-Hamilton. His visits to Aspen, Colorado, were made possible by a partnership between Friends of Africa International and Abwenzi African Studies.
In October of 1992, FOAI hosted Bob Campbell, renowned National Geographic photographer.
Mr. Campbell brought the world's attention to Dian Fossey's mountain gorilla research in Rwanda.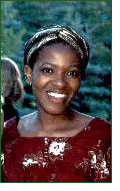 Mpho Tutu is the youngest of four children of Anglican Archbishop Desmond Tutu, the 1984 winner of the Nobel Peace Prize. She was educated in London and Swaziland, and majored in electrical engineering at Howard University in Washington D.C.


During the summer of 1994 Friends of Africa International hosted Ms. Tutu at a barbecue and reception in her honor. She delighted the attendees with a lively discussion about the culture, politics and future outlook for the women's role in a changing South African society.


Mpho Tutu is currently studying for the Master's of Divinity degree at the Episcopal Divinity School in Cambridge, Massachusetts.
Masai junior elder, Nemarrau "John" Ole Tome, who comes from the Talek area of the Masai Mara in Kenya, visited Aspen area schools in 1995 and again in 1999. Ole Tome has amused locals and tourists alike by arriving at the Aspen airport dressed in his shuka cloth robe, ochre braided hair and leather sandals to a chilly 30-degree temperature. Unruffled by the winter climate of the 7,500-foot altitude mountain terrain, he gleefully embarked upon his mission to enhance the lives and knowledge of a multitude of typical American kids in local elementary and middle schools.


During his visits to the Aspen area, Ole Tome spoke to, and visited with, over 2,000 students, captivating them with his discussions on what it is like growing up in a Masai village. He spoke of the lifestyle of the Masai people, their heritage, and some of the problems facing the Masai culture today. Born to a family, which included 21 children, he outlined the family structure and social parameters of a Masai youth, and defined the relationships between family members and their respect for one another.


In Kenya, Ole Tome is a lecturer on Masai culture at various tourist lodges in the Masai Mara, and has lectured extensively in the US as well. He has been featured on CNN Inside Africa, National Geographic, BBC, and many newspapers in the U.S. and abroad. This presentation was a joint effort with another local organization, Abwenzi African Studies, directed by Ms. Carlyle Kyzer.


Please click here for more information about Ole Tome.
Peter Beard, the world famous photographer, author and environmentalist, is famous for his book The End of the Game, depicting the demise of elephants in Africa.
In June of 1992, Peter Beard came to Aspen to give a beneift for FOAI on "The Art of the Maasai". This benefit was endorsed by the United Nations Environmental Program as was part of the Aspen Celebration for Indigenous Peoples.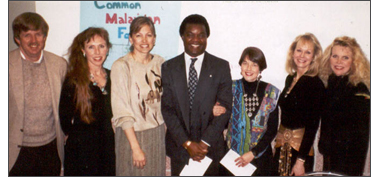 In February, 1992, FOAI co-sponsored with the World Wildlife Fund and the Aspen Middle School African Studies Class a presentation by Henri Nsanjama, World Wildlife Fund Vice President for Africa and Madagascar.
Nsanjama, a Malawi native, gave an extremely informative address to an Aspen audience about conservation in Africa.
In 1994 master printmaker, Dennis Curry, came to Aspen (Colorado) for the opening of a magnificent show, where his lithographs on African wildlife were featured. This event was organized by FOAI as a fundraiser with a portion of the sales being donated to the organization.


A printmaker for 25 years, Curry has developed a lithography process in which he works directly on plastic drafting mylar instead of on a plate or stone. Each image takes about four months to make. This technique, and the offset printing process he uses, allows a Curry print to hold all the subtle nuances of his original drawings.


Curry very much thinks of his work as "environmental art". He said that the relationship he's developed with Africa over time has allowed him to see firsthand the threat to so many of the animals he encounters there. Curry does not want his art to become "historical", that is, to see these species become extinct. "The more people are familiar with them, the more likely they are to try to save them, " he said.